3 Tips to Become the Most Successful Cross-border E-commerce Website
With increasingly more businesses selling products worldwide to take advantage of global markets, localized websites are more important than ever. As a first step in setting up a localized site, understanding the frequently used search engine terms of local customers is essential in cultivating a new market. It's also one of the most effective ways for a company to build customer relations and promote its international branding.
1. Putting a plan together
Aside from finding translation companies and agencies to undertake translations for your products, understanding consumer behavior is equally important. In this article, we've put together some key points to bear in mind when localizing products: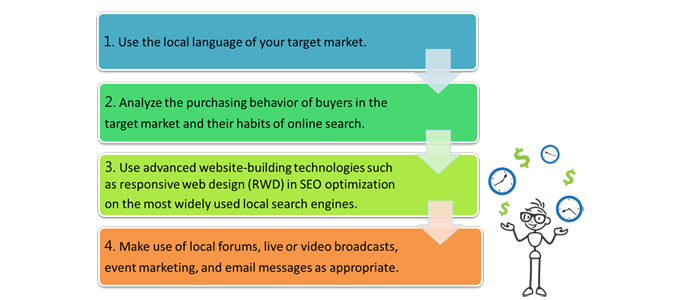 Each market segment has its own nuances and needs to be addressed when marketing your products worldwide. For a trading company, for example, a well-designed marketing plan can effectively promote its branding and products while fast-tracking growth of its global trading volume.
The local language of your target market is the most fundamental entry barrier in expanding into a new market. Your product features and services may be excellent, but language barriers can lead to differences in understanding between the seller and the buyer; rather than leading to a positive outcome, such misunderstandings will likely undermine any subsequent efforts to expand into multilingual markets. 
2. The right language for the right market
Currently, English remains the world's lingua franca at over 800 million online users. Next up is Chinese at close on 650 million users. The number of online users who speak Spanish is about 222 million, while those speaking Japanese and Russian account for around 110 million and 147 million, respectively. This is followed by German and French (source: Internet World Stats, 2016). 
Surveys by the Miniwatts Marketing Group and W3Tches indicate that English marketing content has become saturated. Meanwhile, the second and third-most widely used languages online (Chinese and Spanish) account for a greater target audience than English alone. What this means is that by appealing to a largely under-developed market, businesses can create significant opportunities with dedicated localized content. Selecting the languages to translate into should be based on the nature of the product market, the intended audience, local legal requirements, and the resources available. 
3. Work with the right translation partner
Given that the first step for a business to introduce its brand globally is to speak the language of the target market, selecting a partner to work with is critical. WritePath, a professional translation and localization company, can help you to overcome cultural barriers and to confidently introduce your services to your intended market. 
WritePath's online translation platform and its unique T-Booster™ machine-learning solution work seamlessly with its highly efficient and automated communications procedures and customized services. The company specializes in the translation and editing of 35 languages, and to date has served clients in 22 countries. To ensure consistency and efficiency, clients can create their exclusive translation glossary which is applied across all files to maintain the consistency of key words. This also helps to ensure consistent branding, which from a customer services perspective, delivers quality time and again. 
Case study – BeMyGuest

BeMyGuest is a multi-award winning travel technology provider for attraction, tours and activity suppliers, and the global category leader for Asian content. As experts in the science of technology for these unique businesses, the company recently launched BeMyGuest Labs designed to bridge the technology gap between unique, local attractions, tours and activities with tailor-made products for a more efficient and cost effective management of inventory, e-commerce tools, channel management and a broader access to the company's extensive distribution networks.
Writepath has assisted BeMyGuest with a number of translation services for a more localised and relevant experience for its users.
Make your first move. WritePath is here to help you meet the world.